Graduate School News
09.02.2021 EsslingenStudents
Linford Dominic Pinto is a senior student in the Esslingen MBA in International Industrial Management. Linford has been living in Germany for the past five years: before he started his MBA, he was working for AKKA Technologies in Böblingen.
DECIDING FOR ESSLINGEN
A major reason why I wanted to study in the Esslingen MBA is that the curriculum and the course modules are very much in line with modern industry requirements. The programme is very reputed, and it is located at the heart of many world-renowned industries with a number of industrial tie-ups.

Before I started, I was looking forward to learning as much as possible from the courses, from my professors and fellow classmates who are all from diverse backgrounds - both culturally as well as regarding their professional experience. Now that I am in the middle of my studies I can say that, in every conversation with my classmates, I learn something new.
THE ESSLINGEN MBA - ONLINE !
The majority of my classmates are here in Esslingen, but some of them are in their home countries. We meet mostly online for class activities, but we also have social media groups where we talk and have some good conversations, which helps a lot. Before the situation got so bad, we had planned to meet up, but we unfortunately had to cancel it due to the rising Corona cases in Esslingen. But we are definitely planning to have a meetup as soon as we can.

What I really like about my studies in Esslingen is the practical approach of the course, and that every course is new for me and I become more and more curious with every new thing I learn. Having a background in the industry helps me to correlate certain aspects of the courses and enhance my understanding.

I am enjoying the subjects in my MBA course and, after graduation, I would like to work in the fields I am currently studying. My interests lie in the fields of strategy, finance and marketing and - with my technical background - in roles which combine technical and management aspects.
LIVING IN ESSLINGEN
Esslingen itself is a beautiful, charming town with majestic old churches and buildings. There are lots of places to eat and sometimes, after a busy study schedule, to sit back and enjoy a pint of beer.

The Corona situation is not affecting me much. Of course, I am careful when I go out, I maintain social distancing and so on. I mainly don't let the negativity regarding Corona affect me - and due to my busy study schedule, I tend to sometimes forget about Corona.

If I could ask the German students around me to do one thing, it would be...

"Komm, lass uns ein Bier trinken und uns kennenlernen."
How is the GS Community coping?
Messages from all over the world
The Esslingen Graduate School is working at full gear: teaching and meeting online, processing the admissions on time but in shifts and isolated. We are doing everything possible to keep things working in these difficult times.
In Early April, we sent out a "wellbeing call" to our students and alumni, asking how they were dealing with the Corona situation - emotionally, physically, psychologically... We wanted to know whether they were ok. It is a great comfort to hear that so many of our students and alumni are doing well. Lots are still working and studying in isolation, some are volunteering in their communities, and some are juggling children and work, which is quite a challenge.
We are thinking of all our community, and are always glad to hear from you. I know that we are all trying to keep healthy and safe: let's get through this time together, and please carry on keeping in touch.
Please see the Alumni News page for messages from our community
Bosch's Georg Mallebrein designated honorary professor of Esslingen University
Teaching in the Graduate School since 2009: Honorary Professor Georg Mallebrein
Professor Oberhauser gives his laudation address to Professor Mallebrein
Professor Georg Mallebrein with the electric folding bike that he received from the university. Photos: Hochschule Esslingen
In acknowledgement of his many years of dedicated teaching, Georg Mallebrein has been given an honorary professorship at Esslingen University. Professsor Mallebrein works as an engineer in Central Research and Advanced Development at Robert Bosch GmbH: for the past 13 years, alongside his work at Bosch, he has also lectured in Esslingen in the Graduate School, as well as in Automotive Engineering and IT.
"Georg Mallebrein is a remarkably active and dedicated lecturer," said University President Prof. Christof Wolfmaier in his opening speech at the award ceremony. "He lectures reliably in a broad number of fields, and for that we thank him, we honour him, and we award him an honorary professorship at our university."
a Visionary with a passion for teaching
Since 2009, Professor Mallebrein has been lecturing in the Graduate School's M.Eng. in Automotive Systems. Together with Professor Oberhauser, he teaches Sensors and Measurement Technology, Automotive Controller Systems, Engine Control Systems, Lab Automotive Controller Systems, Team Project, and he supervises master's theses.
"You took over lectures in the Graduate School right from the inception of our new M.Eng. programmes; you were one of our most important advisors, a visionary for these new structures in our education system," said Professor Oberhauser in his laudation address to Professor Mallebrein.
Over the years, Professor Mallebrein and Professor Oberhauser have supervised the PLACIS student project in cooperation with our French partner university, Supméca, travelling to Paris with our student teams.
Combining his job at Bosch with a Teaching Position in Esslingen
Georg Mallebrein has taught almost 1600 hours at the university and has even reduced his hours at Bosch in order to do so. He is also in Esslingen for project planning talks, invigilating examinations, and in order to supervise master's theses. "Many of his colleagues didn't know that he wasn't a full-time professor," noted Professor Jürgen Haag, Dean of the Faculty of Automotive Engineering.
"Combining my job at Bosch with a teaching position in Esslingen is ideal. In this way, I can bring the latest research in advanced development that I deal with at Bosch into the classroom and also win students for thesis work or even a new job," said the new honorary professor. "I value the personal, inspiring and positive environment at Esslingen University and really enjoy being able to research topics in depth that I would not have time for at my job at Bosch."
- translated by Catriona Fekete-Nester, GS Marketing Manager. Please also see the original text in German by Christiane Rathmann, HE RÖM
Dr. Andreas Paa was a 2014 graduate of the M.Eng. in Automotive Systems, majoring in Vehicle Dynamics. Now, the 40-year-old has completed his PhD and become a professor in eastern Westphalia
Andreas Paa completed his entire academic education at the Hochschule Esslingen
The lab for Internal Combustion Engines was primarily his work place
As long as he can remember, Andreas Paa has been thrilled by automotive engineering: as a young child, he often visited his father's engineering company and watched him at work. "I grew up with machines and technology," he recalls, so a career in a technical field was simply a natural progression. After school, he started off in industrial mechanics at Kärcher and then Stihl, and it was after this that he began his studies in Esslingen.
Andreas spent 10 years completing his studies in Esslingen; his bachelor's and master's degrees entirely at Esslingen University and then his PhD in cooperation with the Technical University Braunschweig. During his PhD, he was working as an assistant in Daimler AG's lab for Internal Combustion Engines. The highlight of his career so far was his appointment as a professor for Internal Combustion Engines and Mechatronics at the Technical University of Eastern Westphalia.
In February, Andreas is moving to Lemgo with his family. There, he will begin lecturing in the Faculty of Engineering and will teach his students, among other things, all about the workings of internal combustion engines. "Teaching is, quite simply, a joy," he says. Working together with young people and giving lectures is something, he noticed very early on, that he greatly enjoys. "I was so lucky to be able to work with so many interesting and motivated people at Esslingen University," he says. "And I was always able to work on innovative projects."
Andreas Paa: "RESEARCH IS COOL"
"I really enjoy being able to help shape the scientific research of the future," he says. "Research is cool. It always bothered me when things didn't work properly." In his new professional world, applied reseach plays a dominant role.
Is leaving his home in southern Germany difficult? "I will naturally miss my parents, friends and colleagues," Andreas admits. "But my family and I have already had a look at our new home: the people in Lemgo have a bit of the Swabian mentality!"
- translated by Catriona Fekete-Nester, GS Marketing Manager. Please also see the full original article in German by Christiane Rathmann, HE RÖM.
On 13 November 2019, the Graduate School held its 7th Graduate Colloquium
With the Graduate Colloquium, the Graduate School gives the university's doctoral and graduate students a platform for interdisciplinary exchange and the possibility to communicate and network.
The 7th Graduate Colloquium started off with a keynote lecture entitled "Sustainable engergy engineering and mobility at Hochschule Esslingen – what on earth are they doing?" by Prof. Dr. Ralf Wörner of the Faculty of Management.
The following doctoral presentations were held:
- By Laura Langenbucher from the Institut für nachhaltige Energietechnik und Mobilität (INEM): "Energieeffizienter Betrieb und ökonomische Bewertung einer solargespeisten Wasserstofferzeugungsanlage."
- By Di Hu, Institut für nachhaltige Energietechnik und Mobilität (INEM): "Simulation of autonomous driving shuttle bus in virtual environment."
Many thanks to all who came together to make this another successful and valuable exchange.
- by Catriona Fekete-Nester, GS Marketing Manager
Andres Corrales from Ecuador wins the 2019 Incoming Students' Video Competition!
Where do you come from and how do you live there? was the motto of this year's "Incoming Students' Video Competition"
Kudos to Andres Corrales from Ecuador for sending in this simply fabulous video of himself in his home city Quito for the 2019 Esslingen Graduate School Incomings Video Competition!
- by Catriona Fekete-Nester, GS Marketing Manager
"International. Intercultural. Innovative."
Unleashing the creative energy of its customers: AEB SE, a Stuttgart-based software company, is encouraging people to create better products together with the firm.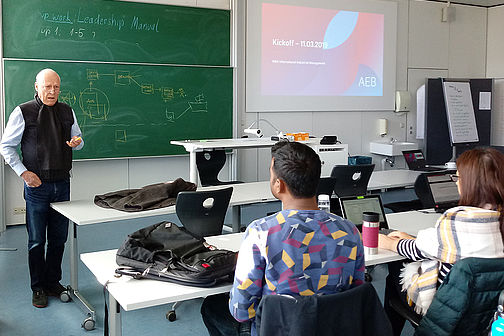 The founder of AEB, Mr. Belz, talks about his way of thinking as an entrepreneur and the challenges faced during the first years of his venture
This kind of creative collaboration is what defines co-creation, bringing new wind into the innovation process of new products and services. Co-creation facilitates meaningful outcomes by integrating design, inquiry and local knowledge.
During the summer term 2019, Esslingen MBA students take this next step in entrepreneurial thinking in Prof. Flad's lecture "Entrepreneurship". MBA students work in groups to complete the challenges posed by this project, using Design Thinking and Lean Startup-Methods not only to develop but also to test a sustainable eCommerce business model for and with AEB SE.
"This project is almost predestined for the Esslingen MBA students because it calls for the main strengths of the program: business competence and engineering know-how paired with internationality. Putting their theoretical knowledge to practical use, MBA students will create and complete a business analysis for AEB's eCommerce business in Asia", says Prof. Flad, who is also the Programme Director of the Esslingen MBA in International Industrial Management.
AEB's cloud-based software for global trade and logistics also makes a positive contribution to society: the supply chain gets leaner and greener, more secure and equitable. Moreover, AEB allocates part of its annual profits to the AEB Foundation to promote education projects for disadvantaged children.
- by Catriona Fekete-Nester, GS Marketing Manager
In the 2019 rankings of the university placement portal Find MBA, the Esslingen MBA in International Industrial Management once again ranked amongst the top 10
The Esslingen Graduate School's MBA in International Industrial Management is once again featured as a top business school worldwide in the career placement area of Industrial Management. In the top 10 list of the MBA specialist and university placement portal Find MBA, there are few other European programmes: the University of St. Gallen in Switzerland and the ESADE Business School in Barcelona, Spain are the closest.
"The Esslingen MBA Team is delighted to receive this award, which is a good representation of the industry's demand for our MBA graduates" commented Dr. Flad, Vice Dean of the Graduate School and Academic Director of the Esslingen MBA.
For further information on this award, please see Find MBA – Top Business Schools for Industrial Management and Manufacturing 2019.
- by Catriona Fekete-Nester, GS Marketing Manager
Prof. Dr. Flad welcomed Dr. Florian Rahe (Daimler AG) as a guest speaker in his course "Corporate Finance"
Since the success of Facebook and Google in the area of data and analytics, data science has become an important tool for many companies, and one that can be applied to various fields.
In this lecture, Dr. Rahe gave an overview of important data science applications in corporate finance, for example in sales forecasting or credit ratings. He also introduced popular data science techniques such as neural networks.
Students learned how data science can be used to support decisions, make processes more efficient and save costs in companies.
- by Catriona Fekete-Nester, GS Marketing Manager