Advice at Esslingen University of Applied Sciences

The Esslingen University of Applied Sciences Student Advice Center offers you personal talks with information and advice on any personal or study-related issues. You can speak openly to us about your situation in an individual talk. All talks are treated absolutely confidentially.
Our advice service is still open for business, even though personal contact is greatly restricted at the moment. You can visit us during one of our virtual general office hours or contact us online, by Emailor by telephone at 0711-397 -3212.
| Virtual general office hours | Time | Link |
| --- | --- | --- |
| Mondays | 13:00 - 14:00 | Link |
| Thursdays | 13:00 - 14:00 | Link |
Orientation before Studies
Are you interested in studying at Esslingen University of Applied Sciences, but haven't decided on a concrete degree course yet? Do you have a specific career in mind but don't know how to get there?
We will help you to find the right pathway.
We offer the following services
Open consultation hours for people interested in doing a degree
Any Monday between 16.00 and 17.00, you can visit us without an advance appointment for a short, initial orientation talk and to make further appointments.
We are happy to take the time to answer your questions and will advise you individually and competently. Together, we will talk about your situation at the moment, your interests and plans for the future, and what pathways might seem worth considering. We show you where you can find other sources of information and help you to make a decision. Please make an appointment in advance.
You can use our online advice service to get into contact with us any time – the service is uncomplicated and anonymous if required.
Ask a student – online advice from students
You can get first-hand information on degree courses or about studying in general. Experienced students from all the faculties will answer your questions online.
The University opens its doors so you can get an insight into the various degree courses and ask students and lecturers your questions personally.
Workshops on choosing your degree course
In these workshops, we work together on creating a profile of your competences and interests, and show you how you can make an informed decision when choosing a degree course. Information and dates available on request.
Subject-related advice in the faculties
If you have detailed questions about the subject in a particular degree course, especially if you intend to change your subject or university, please contact the relevant degree programme director.
You can find the right contact person on the faculty website pages under "Persons".
Applications and admissions
For any questions about applications, admission procedures and requirements, please look under Applications.
Difficulties during your Studies
At times when everything seems to be "too much", you feel down, or need support, we will be at your side with personal talks and advice. During your studies, sudden and unexpected difficulties can often arise. Some typical problems are:
motivational and coping crises

pressure to achieve and exam anxiety

conflicts in group work

conflicts with teaching staff

thinking about dropping out or changing your degree course

threatened or actual withdrawal of your right to take exams

procrastination, i.e. chronic putting things off
We can also offer you talks at short notice and anonymously if required. Of course, we are bound by confidentiality and will not undertake any steps without your express permission.
Studying with a Child or a Dependent Relative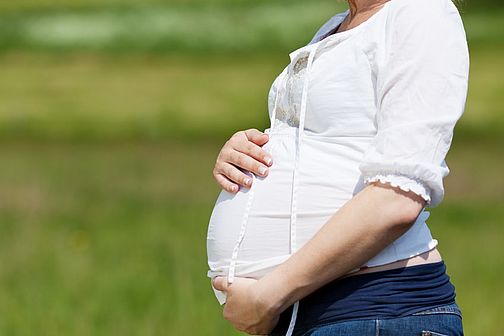 The following points are intended to offer help and orientation in organising one's life to pregnant students, students with children or other family responsibilities (for example, caring for a dependent relative).
Studying with a child
The decision to study with a child requires enormous organisational talent and often throws up questions about the family's livelihood. Nearly all parents who are studying ask themselves if it is possible to complete their degree quickly and efficiently despite having childcare responsibilities.
In § 34, the Federal State University Law states that any students with childcare responsibilities have to be allowed flexible deadlines. Furthermore, any claims to maternity and parental leave must be granted. Esslingen University of Applied Sciences is committed to applying these regulations to make it possible for students with childcare responsibilities to complete their degree. Further information can be found on the Internet site Family-friendly university.
In the Student Advice Centre, you will receive comprehensive and individual advice tailored to your specific situation. You will find out everything you need to know about the general regulations to do with studying as well as important information about financial options, accommodation and support services. Of course, we are bound by confidentiality and will advise you anonymously if required.
Student with a Disability or Illness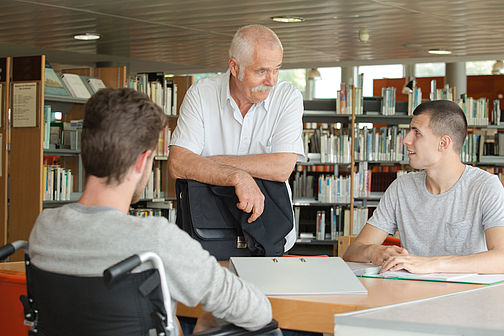 Inclusion is an important cross-cutting issue at Esslingen University of Applied Sciences and applies at all levels and in all areas. One of the university's main concerns is to provide professional support to students with a disability or chronic illness so as to enable them to demonstrate and further enhance their skills during their studies.
Prof. Dr. Nina Kölsch-Bunzen is the Inclusion Officer for Esslingen University of Applied Sciences. Any student who would like to contribute their ideas on how to support and promote inclusive structures at the university is welcome to get in touch with her.
Personal or Family Problems
The Student Advice Centre can also help you with problems that at first sight do not appear to have anything to do with your studies, for instance:
family crises
psychological problems or addiction
pregnancy conflicts
pressure to achieve and fear of failure
suicidal thoughts
conflicts in your personal life
Such difficulties always affect your studies; they usually mean that you cannot study to your full capacity.
In the Student Advice Centre, you will find understanding and qualified advisors who are expressly bound by confidentiality and will take enough time to help you with your problem. If your problem is very intensive or complex, we will be happy to help you find alternative support options.
International Students and Refugees
Do you come from a foreign country and would like to study at Esslingen University of Applied Sciences or are you already studying here?
For people who want to study in Germany there are a lot of questions that need to be addressed. How can I get financing? How good does my German have to be? How and where should I apply? The Student Advice Centre offers information, coaching and advice for international students and students with a history of migration, whether personally or in their family.
Further information under Studying in German as an international student.
For more information or an appointment, please write an e-mail to the Student Advice Centre.