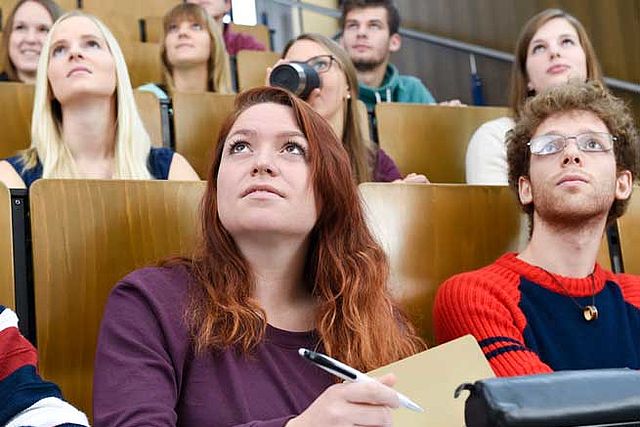 Esslingen University of Applied Sciences offers prospective students the chance to sample university life. Taster lectures are an opportunity to experience the atmosphere and the surroundings – the lecture theatre, the campus, "real" students – and to get an idea of what it's like to attend a lecture at a university.
Prospective students can attend a regular lecture by arrangement. Lectures offered in the 1st semester are the best ones to choose. If you are interested in attending a taster lecture, please contact the faculty responsible directly.
Further information: Faculty of Social Work, Education and Nursing Sciences
Further information: Faculty of Management and Technology
Insurance declaration
For insurance reasons it is not possible to attend a lecture without prior registration.
To attend a taster lecture, the prospective student must first complete the following declaration, sign it (the parent or legal guardian must also sign, where applicable) and submit it to the faculty office or the lecturer responsible.
Declaration to participate in taster lectures at Esslingen University PDF
Information for auditing students
Those wishing to attend courses and seminars at the university for a longer period of time can do this by registering as an auditing student. Further information is available here:
Interested?
Find out more!
about our degree programmes