Studying in Esslingen
Lively, sympathetic, colorful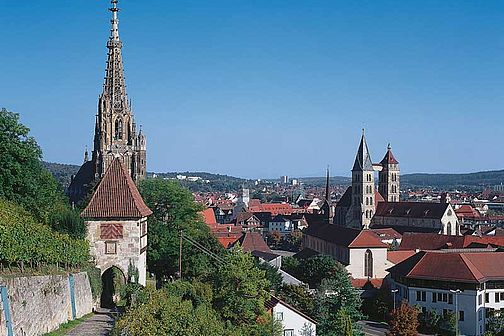 Esslingen lies just 20 km from Stuttgart – the capital city of the federal state of Baden-Wuerttemberg. The city, nestling among vineyards, with its 90,000 inhabitants, can look back over more than 1,200 years of history. Here, tradition and progress go hand in hand.
Since industrialisation, Esslingen has been an attractive location for industry and commerce. A number of international companies, such as Daimler, Eberspaecher and Festo, are established here.
Enjoy the free time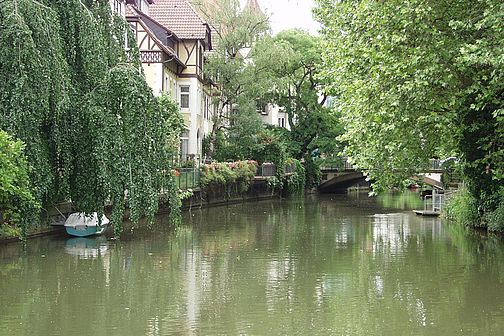 Esslingen attracts visitors with its great sights, such as the historic castle, churches and half-timbered buildings. Various city tours and events offer the perfect opportunity to get to know the city and its inhabitants. If you don't feel like strolling through the old city, you can get to know Esslingen from a completely new perspective – from a trip by boat or canoe.
Relaxing
Directly adjacent to the City Centre Campus, you can find the Merkel'sche swimming pool. Here, you can relax after classes by swimming a few lengths or enjoying the spa and sauna. On fine summer days, the open-air swimming pool next to the river Neckar is an ideal place to soak up a few hours of sunshine.
Inform yourself at Esslingen's City Marketing and Tourism Office or Adult Education Centre (Volkshochschule).
Bars and Clubs
With its numerous bars, cafés and different concerts, Esslingen has a varied range of leisure time activities to offer.
Offers of the Stuttgarter Students Union
Student accommodation is organised by the Stuttgart Students Union. The student flats have been constantly modernised and, where possible, extended. In recent years, a new student's accommodation complex, Rossneckar II, has been added and offers 131 new rooms for students in Esslingen.
The new student flats are ideally located – on foot, 15 minutes separate Rossneckar II from the City Centre Campus of Esslingen University of Science. The faculties of the Hilltop Campus, Flandernstrasse, can be reached by public transport in a matter of 20 minutes. The University's future West Campus (construction start 2018/19) directly borders Rossneckar II. The Stuttgart Students Union has leased the new building from the Esslingen building company, Esslinger Wohnungsbau GmbH, for 20 years.
Esslingen's City Centre Campus and Hilltop Campus, Flandernstrasse, have a lot to offer!