Areas of activity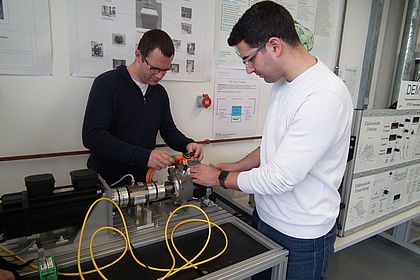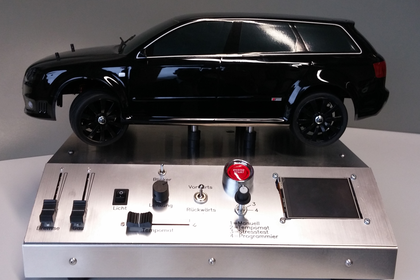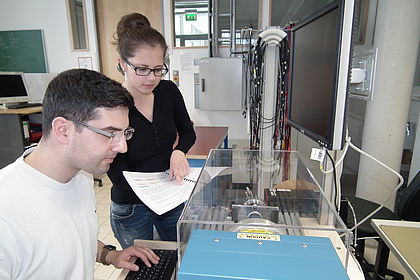 Microcontroller Systems (Prof. Dr. André Böhm)
In the Microcontroller Systems Laboratory, a complete 1:10 model of an electric vehicle including a complex control panel are provided with functionality as an example of how the technology can be used in an automotive control unit. It comprises:
A graphic display to show status information, measured values and time curves
Light, brake light and indicator
Steering, drive and recuperation
Measurement of voltages and currents in the drive train
The control panel contains various switches, buttons, knobs and sliders to control these functions, which are put into operation step by step.
In doing so, a complex and comprehensive programme to control the microcontroller integrated in the model is compiled. The background knowledge for the various functions is acquired in parallel during the lectures.
48V on-board supply (Prof. Dr. André Böhm, Prof. Dr. Jürgen Haag)
Vehicle actuators (Prof. Mathias Oberhauser)
The numerous mechatronic systems installed in modern vehicles contain a large number of actuators. Their static and dynamic accuracy has a crucial impact on safety (example ABS/ESP), environmental friendliness (example: exhaust gas recirculation for a combustion engine, dosing of air flow into a fuel cell) and comfort (example: seat adjustment, automatic transmission) of the vehicles. At various laboratory workstations, students learn how to control brushless DC motors (BLDCs), record the characteristic curve of a magnetic particle brake which was donated by the Magura Foundation, measure the flow in pneumatic valves with a laminar flow element sensor and the frequency response of a hydraulic servo-valve. All test stands are equipped with digital measuring sensors.
Control engineering (Prof. Mathias Oberhauser)
The complete design chain of a modern closed-loop control from the mathematical model through to the microcontroller program is demonstrated using the example of the position control of a throttle flap from a modern four-cylinder engine. The laboratory experiment was set up in collaboration with Mercedes (Daimler AG). The control algorithms developed in the Matlab/Simulink software can be tested with the real throttle flap with the aid of a dSPACE MicroAutoBox without additional manual programming. As is usual in industry, the fully developed control for the series is ported from the very powerful, but expensive MicroAutoBox to a low-cost microcontroller which moves the throttle flap via power electronics developed and manufactured in the laboratory itself. Another very illustrative demonstration object for modern closed-loop control engineering is the inverse pendulum, which was set up with the aid of a toothed belt axis donated by the company Festo.
Electric drives in the vehicle (Prof. Dr. J. Haag, Prof. Dr. O. Zirn).