Graduate School News
Graduate School parent faculties rated among the best in Germany
Top marks for Mechanical Engineering in 8 categories
The Faculty of Mechatronics and Electrical Engineering was top in 5 categories
In the May 2019 ranking of the Centrum für Hochschulentwicklung (University Development Centre - CHE), Esslingen University was rated excellent in the areas of Mechanical Engineering, Mechatronics and Electrical Engineering, Chemical Engineering and Biotechnology. The CHE Ranking is a nation-wide assessment of students' experience of the programmes, teaching, equipment and research at their university.
In the May 2019 ranking of the Wirtschaftswoche magazine, Esslingen University's Mechanical Engineering Faculty was ranked in the German top 10. The university ranking in the Wirtschaftswoche magazine has been compiled by a national survey of approximately 650 Personnel Managers in small, middle and large Enterprises in Germany.
The M.Eng. in Automotive Systems (ASM) is largely based within the Faculty of Mechanical Engineering: the M.Eng. in Design and Development for Mechanical and Automotive Engineering (DDM) is largely based within the Faculty of Mechatronics: we are very proud that these faculties have been rated so highly not only by Personnel Managers nationwide, but also by university students and alumni.
The CHE university ranking can be seen at ZEIT online.
Please also see the full original article in German by Christiane Rathmann.
In the 2019 rankings of the university placement portal Find MBA, the Esslingen MBA in International Industrial Management once again ranked amongst the top 10
The Esslingen Graduate School's MBA in International Industrial Management is once again featured as a top business school worldwide in the career placement area of Industrial Management. In the top 10 list of the MBA specialist and university placement portal Find MBA, there are few other European programmes: the University of St. Gallen in Switzerland and the ESADE Business School in Barcelona, Spain are the closest.
"The Esslingen MBA Team is delighted to receive this award, which is a good representation of the industry's demand for our MBA graduates" commented Dr. Flad, Vice Dean of the Graduate School and Academic Director of the Esslingen MBA.
For further information on this award, please see Find MBA – Top Business Schools for Industrial Management and Manufacturing 2019.
Unleashing the creative energy of its customers: AEB SE, a Stuttgart-based software company, is encouraging people to create better products together with the firm.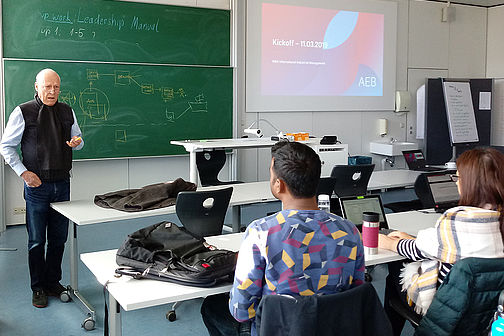 The founder of AEB, Mr. Belz, talks about his way of thinking as an entrepreneur and the challenges faced during the first years of his venture
This kind of creative collaboration is what defines co-creation, bringing new wind into the innovation process of new products and services. Co-creation facilitates meaningful outcomes by integrating design, inquiry and local knowledge.
During the summer term 2019, Esslingen MBA students take this next step in entrepreneurial thinking in Prof. Flad's lecture "Entrepreneurship". MBA students work in groups to complete the challenges posed by this project, using Design Thinking and Lean Startup-Methods not only to develop but also to test a sustainable eCommerce business model for and with AEB SE.
"This project is almost predestined for the Esslingen MBA students because it calls for the main strengths of the program: business competence and engineering know-how paired with internationality. Putting their theoretical knowledge to practical use, MBA students will create and complete a business analysis for AEB's eCommerce business in Asia", says Prof. Flad, who is also the Programme Director of the Esslingen MBA in International Industrial Management.
AEB's cloud-based software for global trade and logistics also makes a positive contribution to society: the supply chain gets leaner and greener, more secure and equitable. Moreover, AEB allocates part of its annual profits to the AEB Foundation to promote education projects for disadvantaged children.
New President elected
New President Professor Christof Wolfmaier and University Council Chair Heidi Stock. Photo: Untermann
Professor Christof Wolfmaier was elected yesterday (22 January) by the Senate and the University Council. His term of office begins on 1 September 2019.
Professor Christof Wolfmaier has been at Esslingen University since 1994, since 2004 as Dean of the Faculty of Automotive Engineering. He specializes in chassis development, in the conception of chassis systems, as well as the methodic development of automotive vehicle components.
Professor Wolfmaier has long been an avid advocate of internationalisation at the university, and currently directs many exchange programmes with international universities. In 1999, he was awarded an honorary professorship Yangzhou University in China.
Before his time at the university, Professor Wolfmaier worked as a Design Engineer and Director of Development in Stuttgart. After beginning as a coach builder, he studied chassis and aviation construction in Hamburg.
Professor Wolfmaier will follow the current President, Dr. Christian Maercker, who will end his six-year term on 31 August 2019.
University Council Chair Heidi Stock welcomed the election results: "With Professor Wolfmaier, we have elected an outstanding President. He will further develop our university and ensure its position of excellence within the ranks of German universities."
Professor Wolfmaier's personal site.
This article was translated from the original German article written by Christiane Rathmann.
Dr. Siegfried Zürn and Dr. Wolfgang Weise
Dr. Zürn came to the university from many years in the industry at BASF SE. He specializes in the area of operation management, especially in international project management, technology management and quality management. Another of his interests is industry 4.0, which is best taught using modern interdisciplinary concepts: Dr. Zürn uses gamification, developing the games himself, to teach industry 4.0 in the classroom.
educating international specialists
One of Dr. Zürn's goals in his new function of Dean of the Graduate School is to further the education of international specialists in cooperation with our regional industry. Over its history, the Graduate School programmes were constantly developed to meet the needs of the industry. Current topics such as electromobility and autonomous systems were integrated into the classroom at a very early stage: using projects based on current innovation, master's theses in the industry and company visits, our international students are brought into early contact with the German corporate culture.
The Graduate School has had approximately 1300 master's students pass through its doors since inception. These graduates often stay in Germany to work, some also return to their home country to work in Germany companies.
"The Graduate School is exemplary in bringing specialized and interculturally well-qualified graduates to the German industry," remarks the Dean. "In my opinion, it is an ideal model to help supplement the German industry with the specialists that it lacks," adds Dr. Weise.
Many thanks to Dr. Weise for years of strong and successful leadership, and welcome to Dr. Zürn and all the new impulses he is bringing.
Last weekend we took a company outing into the deepest reaches of the Black Forest, visiting Dr. Ehlers and his wife
Many of you will remember Dr. Ehlers as the Graduate School Vice Dean and Programme Director of the MBA. He is now retired but living the life of the Gods in the country with his wife, Frau Bader.

We had a lovely day, eating loads of fabulous food and enjoying the countryside, as always in very good company.

Looking forward to the next visit!
Prof. Dr. Flad welcomed Dr. Florian Rahe (Daimler AG) as a guest speaker in his course "Corporate Finance"
Since the success of Facebook and Google in the area of data and analytics, data science has become an important tool for many companies, and one that can be applied to various fields.
In this lecture, Dr. Rahe gave an overview of important data science applications in corporate finance, for example in sales forecasting or credit ratings. He also introduced popular data science techniques such as neural networks.
Students learned how data science can be used to support decisions, make processes more efficient and save costs in companies.
Community spirit is strong in the Esslingen Graduate School. The Lighthouse Project, where Graduate School students visit senior citizens living in a Seniors' Centre in Esslingen Kennenburg, is now in its third year.
We are proud to have students who, in addition to 18 months of intensive study, found it important to contribute to the community they lived in. When passing on the project to the next generation of students, Lighthouse founding members said how grateful they were for the many beautiful hours that they spent with the senior citizens in the Seniors' Centre.
The students share stories and pictures of their home countries with centre residents, they sing songs and organise games. Residents are clearly delighted to receive so much additional attentional, and enjoy the talks and the informal get-togethers with our young students. For most of the residents, this kind of activity is seldom: the fresh breeze blowing from India, Japan, Bolivia or Canada bewitches smiles into their faces.
Yasuhito Nakazawa, an MBA student in the Graduate School, talks about his experience in the Lighthouse Project.
Read the latest article on the Lighthouse Project on the website of the Senior's Center.
Article in the Esslinger Zeitung from 01.09.2016: The Lighthouse Project Shines Brightly out into the World
The School of Management of the National Taiwan University of Science and Technology (NTUST), one of our partner universities, invited Graduate School professor Dr. Siegfried Zuern to lecture in May 2018
During his compact seminar, which was aimed at master's and PhD students of engineering and industrial management, Dr. Zuern discussed the varied challenges that the digitalisation of operative management brings. Together, the participants created a matrix of mutually influencing aspects that have to be considered for the strategic planning and introduction of digital processes (industry 4.0). The students subsequently had to work out which management techniques are necessary to direct this kind of transition. A specially modified version of the "act.if® Company 4.0" interactive case study game was used. This gamification version is based on an international, interdisciplinary scenario and was developed for the Esslingen MBA. It owes much of its development to the competence and experience of the Esslingen Graduate School with its international and interdisciplinary programmes (ASM, DDM, MBA).
The compact seminar was rounded off with a glimpse at the future of the social effects of digitalisation. The students, who were not only from Asia but from Africa, South America and Europe, entered into a lively discussion on the chances and risks that result from the increasing digitalization of business and society for developing countries.
Brexit: a topic that is still of central interest...
Responding to the request of our American Summer School students, course organiser Dr. Michael Flad went in-depth into the wide-reaching implications of Brexit. With experience not only at Harvard University, but also in the European Central Bank and Allianz Insurance, Dr. Flad was the right man for this lecture.
In the American Summer School, students were free to request lectures. One of their main concerns was the topic of Brexit, and Dr. Flad was given the following request: "Lecture on Brexit and its impact on the European economy. Economic integration in trade zones is something we can relate to given our North American Free Trade Agreement (NAFTA). We would like to hear how Brexit is likely to impact trade throughout Europe. We are also curious to understand something of the political implications in this season of elections throughout Europe."
Dr. Flad held a lecture last Friday, beginning by explaining the nature and structures of the EU, from its beginnings over 70 years ago with 6 founding countries, and its five key European institutions. He then showed the development of the EU in itself, as well as the movements of trade in Europe. The main factors in this discussion are trade and FDI, the EU budget, regulations affecting labour and product marketing, immigration, wage disparity, and of course the migrant crisis.
There are many arguments for and against Brexit, but truly interesting is what is likely to happen when the cut comes and the ties that have grown between the UK and Europe, that have helped to support a union that has as its goal peace and prosperity in Europe, are severed. Interesting is, how the economic and political worlds will deal with this situation.
After the lecture, the students enjoyed a very lively discussion with Dr. Flad and Lipscombe University's Dr. Andy Borchers, asking questions and sharing their views from the American perspective.
On 15 January 2018, the MBA students of Hochschule Esslingen had the privilege of touring an Audi location in Neckarsulm. This visit included an overview of the training center as well as an in-depth tour of the plant.
Student report
"The overview of the training center was led by Ms. Hofmann, manager of human resources, and Ms. Zarco, a student completing her master's thesis at Audi. The most noteworthy aspects of the training center were:
1. The hands-on training using Legos offered to Audi employees in order for them to truly get an understanding of how production at Audi works.
2. The example of energy loss from just a tiny leak in a tube with compressed air. Understanding this is crucial for the employees at Audi because so much of their process uses compressed air and the associated costs for a small leak is very high.
3. The room that is dedicated to training employees on how to work on a moving line.
"The plant tour was truly remarkable. So much of the process was automated using Kuka robots. Some of the major takeaways from the MBA students were:
- The large amount of glue used in assembly
- That they have a 0.1mm tolerance over 4 Meter (checked by lasers) on the final welded assembly
- The large incorporation of robots
- The very small amount of time to change over the tools in the body press shop
- The "Just in Sequence" strategy
"Overall, the Audi visit was a very informative and enjoyable experience."
Author: Amanda Stephens, MBA Class of 2019
On 9 January 2018, Ernst & Young's Marco Liesegang lectured the MBA class on Industry 4.0 / IoT.
Student report
"The MBA class of 2017-2019 was honored to receive a lecture from Mr. Marco Liesegang from Ernst&Young (abbreviated EY). The EY Senior Manager for Business Advisory Division (I4.0/IoT lead) initially described the evolution of industry: from the steam age to the digitalization of things.
"He seamlessly approach the trend forward to the current modern age.
"Furthermore provide challenges faced by current global companies in developing digitalized process to efficiently manage process cost and bring about more profit to companies in various sectors. Interestingly he would not mind to describe some suggested solutions to current business challenges faced by many i.e. share of knowledge, develop cloud database, networking of different skills and businesses. Finally he concluded about the enormous opportunities laid ahead for students in their future if they choose to be in the Consulting & IT careers."
Author: Rudolf Panjaitan, MBA Class of 2019
On 19 December 2018, Dr. Michael Behnke from BMW lectured in the Esslingen MBA course on Quality Management.
Student report
"MBA students were honored to acknowledge corporate-expert Dr. Michael Behnke presenting quality management values from BMW, marked by enthusiasm in vast array of technical questions addressed during and after the lecture.
"Dr. Behnke began with a focus on management strategies: costs, quality, emission, weight, function and timeline and directed it further to development stages from "idea to offer" to "delivery to customer" systematically. He generously granted the audience with real-life examples of "reactive vs preventive actions" which leads to curiosity and creative-thinking questions. Nevertheless he was fully aware and professionally handled sensitive information in a fair, concise yet clear manner.
"We were honored to have Dr. Behnke in our class."
Author: Rudolf Panjaitan, MBA Class of 2019
For many, simply seeing a Pagani Huayra is a dream. Jorge Alberto Jáuregui from Argentina gets paid to test drive them!
Jorge graduated from the Esslingen Graduate School Master's in Automotive Engineering (AE) in 2006. The AE programme was a precusor to both of our current MEng programmes, the MEng in Automotive Systems and the MEng in Design and Development for Automotive and Mechanical Engineering.
Jorge completed his master's thesis at Porsche, and then moved straight into a job at Bosch, working on the ESP and TCS controls for super-sports cars. He is still working for Bosch as an Application Engineer in Vehicle Dynamics.
We are very pleased to have Jorge teaching in our MEng in Automotive Systems programme each year. Jorge is an ideal lecturer in the module "Handling," passing on his expertise in the field of ESP. It is great for the students to be able to have a hands-on look at the newest super-sports cars: in the last three years, Jorge brought a Ferrari to the university to demonstrate his lecture.
Jorge's test drive of the Pagani Huayra was written up in the Argentinian Autoblog: https://autoblog.com.ar/…/el-senor-esp-de-bosch-es-un-arge…/ Even for non-Spanish speakers, it is worth while having a look, as there are gorgeous photos of this exotic car in action, and the video linked below is also featured on this site.
In this blog, Jorge, who is called "an engineer and a master of the greatest work in the world" describes his studies here in the Graduate School: "In the one and a half years in Esslingen, I learned a lot about theory and practice of German car development, as lots of the professors are engineers from Daimler, Bosch, Porsche and BMW."
In the video of his ESP testing, Jorge is test driving a Pagani Huayra. If you don't know what that is, it's a super-sports car made in Italy - super in price too, with a base price of €850,000. Have a look! https://youtu.be/xIrKsxzUEws
Esslingen University's new language tandem web app, talk2me, is now starting up. talk2me supplements your university language courses and also gives you the chance to get to know people from different cultural Backgrounds.
How does the Esslingen talk2me language tandem work?
The basic idea is to learn and improve languages together in a language partnership.
Using the web app, you search for your new language tandem partner. You can chat with your perfect "match", make phone calls or meet your partner in person. Usually, you will spend some time talking in "Language X" and afterwards some time in "Language Y": a win-win situation!
Especially for our international students or for our German students planning to go abroad, talk2me is the perfect platform to get talking in a foreign language and find out about the country.
Take this chance of learning languages together!
Register now on: https://talk2me.hs-esslingen.de/
From students for students: talk2me was launched by Esslingen University students – it's a project from students for students!